Management des Ressources Humaines et Coaching

| | |
| --- | --- |
| Posted on April 13, 2014 at 3:52 PM | |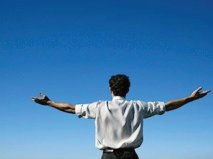 "Leaders that try too hard to win people over are the ones that end up losing the respect of their employees.  The most memorable leaders know how to naturally make a good first impression. They are mindful of what most employees do and don't expect of them and want to create for them a safe environment that enables engagement. Leadership success is all about people and when leaders forget this fact, they are headed down a path of self-destruction."
"Leadership is not about acting the part, but rather being your most authentic self to serve the organization and advance others, while avoiding the traps of self promotion along the way. As such, first impressions should never be forced; they are opportunities to reveal who you are and what you represent as a leader."
"You can never go at leadership alone.  Making a strong first impression as a leader is about how people initially perceive you, but respect is earned through the consistent actions you take and the decisions you make that tend to the needs of the employees and support the goals and objectives of the business. Without an inspired and focused workforce – enabled to unleash their passionate pursuits of excellence and clear about leadership's expectations and intentions – the business becomes vulnerable, at risk of losing its top-talent, and productivity begins to wane.
"As you continue your leadership journey, become more mindful of the first impressions you are leaving behind for your employees, clients, shareholders and the industry that you serve.  How does your first impression begin to impact performance, morale, attitude, trust and innovation? " 
"Here are 14 things every leader should consider if they want to make an unforgettable first impression:
1.  Warm Greeting
2.  Polished
3.  Friendly; Engaging
4.  Represents Their Authentic Self
5.  Good Listeners
6.  Are Interested In What Matters to Employees
7.  Embrace Differences and Acknowledge Accomplishments
8.  Knowledgeable
9.  Accessibility
10.Sense of Humor
11.Vulnerability
12.  Consistency
13.  Lead By Example
14.  Motivational
Happy learning and experimentation
Categories: management
/